English
This kind of large Display is used mainly in industrial areas when it is necessary to visualize information composed from separate fields of different typologies (letters, numbers, signals etc.), of different dimensions, fixed or variable, visible from long distances (from 5 up to 300 meters).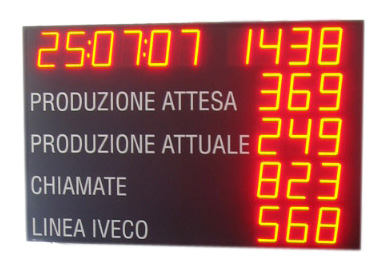 Display to monitoring takt time - produced quantities, Profinet interface
Every "Andon-X " is made on specific needs of the client assembling standard system modules available in various sizes. The modules can be numerical for numeric data and alphanumeric for letters and numbers. It is possible to integrate bright indicators that highlight a particular situation and fixed writings that give a better understanding of the visualized data. The fixed writings can be made with serigraphy or with adhesive vinyl film (generally of white colour).
Some example of displaying data:
Target
Takt time
Allarms
Errors on line
Shift
Line efficiency
Production and yield coefficients
Produced pieces
Speed of tapes
Fixed and scrolling messages
Time and date
Days without accidents
Produced-Consumed-Saved energy
Andon-X can be integrated in a process of production connecting its modules to industrial machines, computers or PLC by the following types of input: Profinet interface, Profibus, RS232/422/485 serial port; N/O dry contacts; parallel BCD or multiplexed BCD; in tension (0-10V, 0-5V, 1-5V); in current (4-20 MA, 0-20 MA).
All the models can be supplied with the chassis predisposed to be installed outdoors exposed to atmospheric agents (IP55). Moreover it is possible to have a greater level of protection for cases in which the display has to be installed in a more critical environment, for example in places where strong jets of water are used from the bottom upward (IP65) or in an industrial shed where there are very aggressive acid vapors.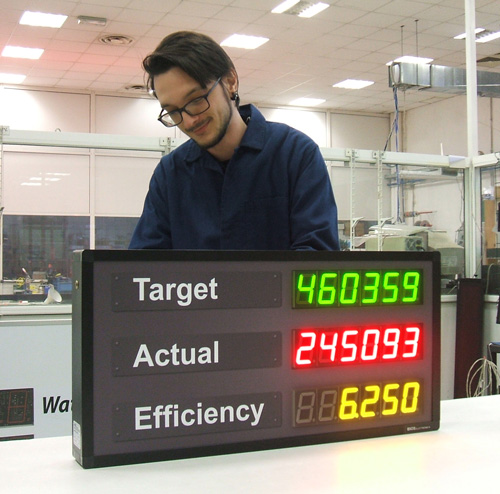 Display for Target - Produced pieces - Efficiency, Profibus interface
Regarding characteristics of single modules of which the "scoreboards" can be composed, you can look at the description of the series: Textronic (one row display), Multitext (multiple rows display) and Numeric Displays.
However we invite you to ask for additional technical details and an eventual offer selecting Contact us on the bottom. If you need a preventive, please specify the type (numeric or alphanumeric) and the quantity of the data that has to be visualized, the prefered way to update information (connection) and the distance from which the scoreboard has to be readable.