English
MULTITEXT ALLOWS TO VISUALIZE TEXT PAGES ON MULTIPLE LINES. THIS MODEL IS NECESSARY WHEN THERE IS THE NEED TO DRAW ATTENTION ON IMPORTANT INFORMATION AND TO MAKE WRITING READABLE ALSO FROM HIGH DISTANCE (FROM 5 TO 80 METERS ACCORDING TO THE MODEL).
Message programming can be done through a personal computer and our software Mediatext-Pro (compatible with Windows98/XP). The text inserted on the PC is transmitted to the display with RS232/422/485 or Ethernet connection. If you don't want a cable it's also available the Wireless interface. To resolve spefic problems and situations we can develop custom software (example: subtitlings of films in cinemas). In addition, to enable users to develop their own specific software, the serial communication protocol is provided. In the industry you can use the board Multitext connecting to a PLC. The PLC can send the text through our communication protocol Mediapro-link via either a serial or Ethernet, or, contacts cleaned by N N / A, can give the input for displaying N messages pre-stored. Multitext remembers the message, even when turned off as long as there remain in this condition for more than 90 days. It can display time and date. Models are available with a single color (monocolor) with choice between red (standard), green, yellow, amber and blue (optional) and tricolor models that can simultaneously display three colors: red, green and yellow.


Alphanumerical led display for operative messages
with 8 bit PLC interface
To choose the most suitable model Multitext ask yourself three main questions: 1) must be installed in an indoor environment or outdoors with direct sun light? - 2) from which distance should be readable? - 3) how much information must be readable displayed on each page? So how many lines and characters per line must be composed of the display?
The Multitext are divided into six main types characterized by the height of the characters and their brightness.
The following character heights are available:
Cm. 3, readable up to 9-12 meters;
Cm. 5, " 15-20 meters;
Cm. 8, " 24-32 meters;
Cm. 11, " 33-44 meters;
Cm. 16, " 48-64 meters;
Cm. 20, " 60-80 meters;
On 3 and 5 cm models are mounted LED (Light Emission Diode: the bright side of the device) of "Dot Matrix" type: they have a not excessive brightness and readable from any angle, this type of LED is recommended when the display must be installed in an indoor environment is not directly illuminated by sunlight. On all other models are mounted LED Superbright type with 2600 MCD: they are easy to read even in the presence of strong sunlight and are therefore suitable for outdoor installations. The displays with LED Superbright Multitext are also recommended for the inside if there is a strong artificial light, as in the case of a television studio, or when they must be readable by over 12 meters. It can have the following quantities of characters per line: 10, 13, 16, 20, 26, 30, 40 and 60. .
You can request a detailed list of all available models with the features and prices by selecting Request information and quotes . The case of the display box Multitext is designed to be installed outdoors exposed to weather conditions (IP55). It is also possible to request a greater degree of protection for cases in which the display is to be installed in an environment more critical, for example in places where they are used strong jets of water also from bottom to top (IP65) or in a shed industry where there are very aggressive acid vapors.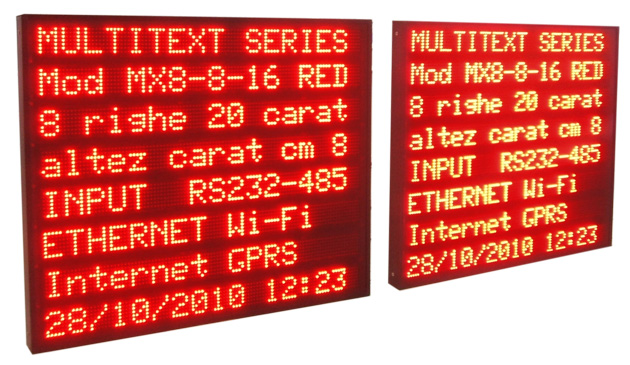 Large Led displays for takt time, errors, alarms
and generic messages in assembly lines
General standard features:
RS232 Serial Port;
LED type: superbright red 3200 Millicandelas;
4 characters fonts;
upper and lower case;
10 appearance Effects for the pages;
possibility of insertion and variation of the effects at each cycle in an automatic manner;
displaying the time and date;
220 V 50-60 Hz Power supply;
autonomy of memory in the absence of network: 90 days.;
case in black aluminum;
antiglare methacrylate front screen;
temperature range:-10c to 60c +.
Upon request you can also have:
RS422/485 Serial interfaces;
Ethernet interface;
Wi-Fi interface;
Mediatext-Pro software
Interface with 8 dry contacts N / A for the automatic selection, via external device, of 8/32 pre-stored messages;
PLC interface with 8-bit parallel input binary for automatic selection of 256 pre-stored messages;
12V, 24V, 110V Power supply;
LED ultrabright (4200 Millicandelas and above);
double-sided version (readable by both the opposite sides).