English
This type of display is used especially in industrial field when it's necessary to visualize clearly numerical data from long distances (from 5 up to 300 meters according to the models), for example in an industrial shed or in a sporting stadium, even if in presence of direct sunlight.
The bright part of the device is composed by a series of LED (Light Emission Diode). The Numeric Display can be integrated in a process of production connecting them to an industrial machine, a PC or a PLC by the following types of input: Profinet interface, Profibus, serial RS232/422/485; dry contacts N/O; parallel BCD or multiplex BCD; in tension (0-10V, 0-5V, 1-5V); in current (4-20 MA, 0-20 MA).
The "sequential counter" version can be operated by N/O dry contacts manually aloof by a remote control, infrared remote control or wired keyboard. The "sequential counter" version standard functions are: Up or Down (increase or decrease of a unit at each contact), Reset and Preset. Upon request is possible to implement particular functions such as: an increase of 10 units for each contact or when counter reaches a preset figure, through an relè contact output, it turns on an external device or an alarm siren. It's also available the "Timer" version: see Crono-Display series.


Led large displays industrial series
The available digit colors are: red (standard), green, yellow, amber and blue (optional). Displays can be built with digits number at will: from 1 up to 32.
The numerical displays are available with the following digit heights:
cm. 2 readable up to 6 meters;
cm. 5,6 " " " 15 meters;
cm. 10 " " " 30-40 meters;
cm. 15 " " " 45-60 meters;
cm. 23 " " " 69-92 meters;
cm. 32 " " " 96-128 meters;
cm. 47 " " " 141-188 meters;
cm. 100 " " " 300-400 meters;
You can ask for an available models detailed list with prices and features by selecting Info request. Models with digit heights cm. 2 e cm. 5,6 are built with "7 segments" type on resin blocks: they have a not excessive brightness and they are well readable closely and from any angle; this type of LED is recommended when the display must be installed in an indoor environment not illuminated directly by the sunlight. On every other model are assembled Superbright LED type: are well readable even at direct peak sunlight and then they are suitable for outdoor environment installation.
All models can be equipped with the preset chassis to be installed outdoors exposed to weather agents (IP55) or with a greater protection grade when it must be installed in in critical environment, such as in places where strong water jet are used also from bottom to top (IP65) or in an industrial building where there are very aggressive acid vapors.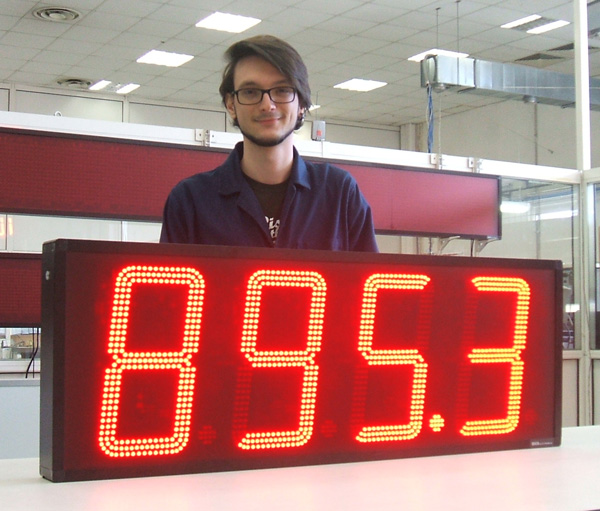 Led numerical digit, Profinet interface for Siemens PLC
Standard general features:
LED type: red superbright 1600 MCD (from cm. 10 on);
Power Supply 220 V 50-60 Hz;
Black aluminum case;
Front screen in methacrylate;
Operating temperature: from -10c to + 60c.
Options:
Profinet interface;
Profibus interface;
RS232/422/485 serial port;
Ethernet interface;
Modbus RTU master/slave protocol;
Interface with parallel BCD or multiplexed input;
Interface with BCH (esadecimal) input;
Form for counter functions (Up-Down-Reset-Preset) manageable by dry contacts N/O or buttons;
"Chronometer" functions (see Crono-Display);
Decimal point programmable;
Keyboard for counters, 2/3 buttons, with 10 mt. Cable;
Remote control and radio receiver for remote inputs;
Interface with 0-10V, 0-5V, 1-5V Voltage input;
Interface with 4-20 mA, 0-20 mA Current input;
Double-sided display (readable from both sides);
12V, 24V, 110V Power Supply;
Ultrabright LED (3200, 4200 MCD and beyond);
Case with IP55/IP65 grade of protection or other.