English
Power-Display is dedicated to monitor renewable energies from photovoltaic, solar thermal, hydroelectric, geothermal.
Power-Display can be installed inside a building or outdoors. It allows the owner to monitor its efficiency and primarily it informs the public of the existence of the implant and its efficiency in terms of energy and carbon dioxide emissions avoided, and then it highlights the contribution that the implant provides for the environment protection.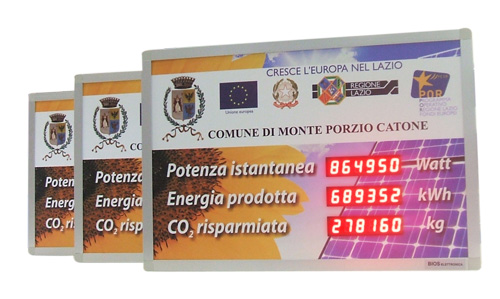 Solar PV monitoring led display, Solarlog interface
Bios Elettronica manufactures eleven electronic standard models to which you can add custom versions with additional fields (see below). The standard versions differ mainly in the size and environment of use. The three smaller models are for indoor applications, others are for outdoor installations. The outdoor models are naturally weatherproof (IP55) and (very important feature) are made with advanced technology and components that make them super bright and therefore readable even at peak sunlight.
Standard models:
item code

Environment

Dimensions cm
(length, height, dept)

Digit height cm

Readable from m

PWD2-PLEX

Indoor

60 x 40 x 8

2

6-8

PWD70-75

Indoor

75 x 50 x 8

7,5

22-30

PWD75-75

Outdoor

75 x 50 x 8

7,5

22-30

PWD75-130

Outdoor

130 x 60 x 8

7,5

22-30

PWD135-150

Outdoor

150 x 75 x 8

13,5

40-54

PWD135-200

Outdoor

200 x 100 x 8

13,5

40-54

PWD23-300C3

Outdoor

300 x 150 x 8

23

69-92

PWD32-400C3

Outdoor

400 x 200 x 8

32

96-128

PWD47-540C3-4

Outdoor

540 x 300 x 8

47

141-188

PWD100-750C3-4

Outdoor

750 x 450 x 8

100

300-400
Power-Display shows the following three main data:
Istantaneous power
Produced energy
CO2 not issued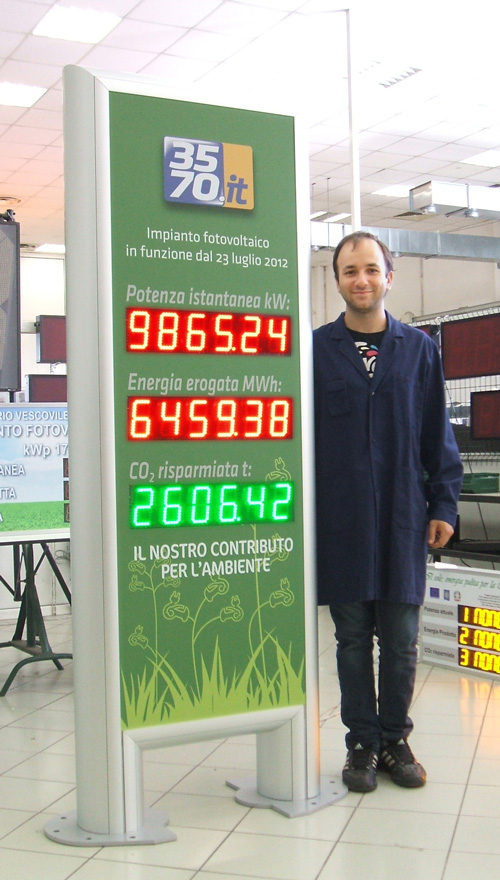 Large led display PV plants monitoring, VSN700 interface
Additional Fields
Upon request we can add other data fields: photovoltaic implant's days of working, tons of oil saved, daily energy production, solar radiation, time, date, outside temperature and other weather data.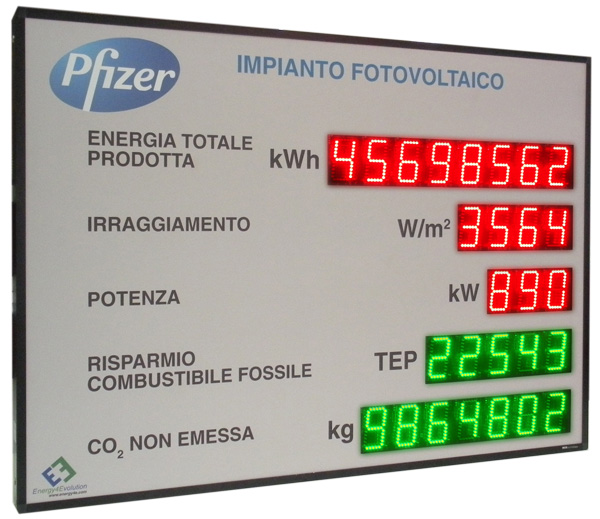 Photovoltaic led display for energy monitoring
Links and interfaces

Power-Display can be connected to inverters, energy meters and data loggers. The display is available in several interfaces::
IMPULSE
Interface for connection to inverters, dataloggers, analyzers and energy meters with impulse output (standard S0).
RS485
Serial interface RS485. Available in master and slave versions for the different inverter/datalogger/analyzer/energy meters types.
Ethernet
Interface for connection through ethernet, directly between display and energy meter/datalogger or through a local network (LAN) or interconnected local networks (VLAN).
Modbus
Modbus interface is used to interface Power-Display to a PLC/PC or datalogger in "slave" mode with Modbus RTU Slave protocol (available in RS485, RS232 and Ethernet).
With the solutions listed above you can connect Power-Display to most popular inverters, dataloggers, energy meters and analyzers:
Datalogger

ABB VSN700-05

ABB Aurora

PVI-AEC-EVO

Solar-Log

300...1200, 2000

SMA

Sunny WebBox

 
 
 
 

Mitsubishi

PV-LOG30

Socomec

Diris A10

Socomec

Diris A40

Meteo Control

WEB'log basic / pro

 
 
 
 

Landis+Gyr

E650 family ( Z... )

Iskraemeco

MT831

Gavazzi (EM21, EM23, EM24, EM26)

ABB DMTME-I-485,

MTME-485-LCD-96

 
 
 
 

Electrex

Femto D4 RS485

Revalco

1RAEMC485

IME Conto D4-Pt CE4DT14A4 / CE4DMID01

AEG

E8MF-4

 
 
 
 

ITRON SL7000 family

(SL761 …)

AROS

WEB'log light / pro
List last updated on January 10, 2016:
Datalogger:
ABB VSN700-05
ABB / Power-one Aurora Easy Control PVI-AEC-EVO
Mitsubishi PV-LOG30
Solar-Log 500, 1000 e nuovi 300, 1200, 2000
SMA Sunny WebBox
AROS WEB'log (Light+ e Pro)
Meteo Control WEB'log (Basic e Pro)
Riello Solar SunGuard Web'log (Light+ e Pro)
In addition all dataloggers with impulse output (standard S0)
Contatori/Analizzatori:
Socomec (serie Countis e Diris)
Landis+Gyr E650 family ( ZMD... , ZFD... )
Iskraemeco MT831
ITRON SL7000 family (SL761 …)
Gavazzi (EM21-72, EM23, EM24, EM26-96)
ABB (DMTME-I-485-96 e MTME-485-LCD-96)
Electrex Femto D4 RS485
Revalco 1RAEMC485
IME serie Conto D4-Pt (art. CE4DT14A4, CE4DT12A4, CE4DT14A6, CE4DT12A6, CE4DMID01 cert. MID)
IME serie Nemo 96 HD (art. MF96001 con interfaccia IME IF96001)
AEG E8MF/4I
EMU Elektronik (EMU light e EMU32)
In addition all Energy Meters/Analyzers with impulse output (standard S0)
And other devices (please ask for an updated list).
Programming Mode
During the installation you need to set some values. You can program the Power-Display by the infrared keyboard TK5 provided with Power-Display. TK5 keyboard allows you to set:
Total energy produced.
This feature allows to correct the value given by the Analyzer/Energy Meter which, for many reasons, can't be the real one. Examples: the photovoltaic implant is activated before the connection to the Network Analyzer; The Analyzer is disconnected for maintenance; The display is connected to an Energy Meter with impulse output subsequently, so the Energy Meter already accounted energy (Impulse Energy Meters don't give the value relative to the total energy produced and so the count is delegated to the Power-Display's CPU).
CO2 factor settings.
The display's software estimate the amount of carbon dioxide (CO2) not issued in the atmosphere according to the following conventional formula: 1 kW/h produced = 1 kg of CO2 x FCO2 (CO2 factor). If it isn't specified differently in the set-up, the system uses the CO2 factor=0,40351 (source: Greenhouse Gas Protocol 2010).
With the TK5 keyboard is also possible to set the following useful parameters to conform the system when the Power-Display has to be connected to an impulse output device:
Pulse weight:from 1 Wh to 999.999 Wh (ex.: 1 imp = 10 Wh or 1 imp = 1 kWh);
Pulse duration:from 1 ms to 999 ms (ex.: 10 ms; 100 ms; 200 ms; 300 ms);
Impulse frequency's Minimum threshold to which you see instantaneous power = 0 (according to the photovoltaic implants' power and according to user's preferences).
Graphics and writings
Power-display can be sold in standard version only with standard writings or in custom version with graphics, logo and images provided by the customer. The customization is performed with four-color printing on calandered polyester film, high resistance against atmospheric agents, UV rays, detergents and moderately aggressive vapors.
Other features
Memory: Flash type (non-volatile memory) for data retention in case of power-off;
Case box: aluminum silver / black;
Front screen: anti-reflective polycarbonate;
Operating Temperature: indoor version 0°/+50°C; outdoor version -20°/+50°C;
Relative Humidity (RH): 90%;
Power Supply: in standard version Power-Display is equipped with 220Vac 50-60 Hz power supply. Upon request: 110Vac, 12V, 24V (ac/dc).
Options
Additional data fields: photovoltaic implant's days of operation, tons of oil saved, daily energy production, solar radiation, time, date, outside temperature and other weather data.
Automatic brightness control day/night, 100 steps;
Radio-modem terminal for wireless connection between energy meter/datalogger and the Display (up to 1 km);
Different led color. Available colors: yellow, blue, white, red and green.