English
Energytutor-Display is dedicated to the monitoring of energy consumption in industrial and commercial activities.
Installed at strategic locations and well visible even from a great distance, it is a very effective tool aimed at raising awareness of all stakeholders with respect to energy consumption. The change of the displayed value, which represents the current consumption in watts or kW, makes it clear how the individual behavior with respect to the use of electrical appliances (tools, lighting, air conditioning etc.) can affect the energy consumption resulting impact on operating costs and the environment. You can install only one Energytutor-Display to view the overall energy consumption of the activity or you can install more than one in multiple departments to view the consumption of the respective departments, individual equipment, lighting, air conditioning and / or global consumption . Each Energytutor-display can be "remotized" on other smaller display or PC monitor, by connecting to the corporate LAN, so that even the leaders in charge of energy saving can constantly monitor the progress and put in place adequate measures to reduce waste, properly sizing systems and aim for a proper energy consumption.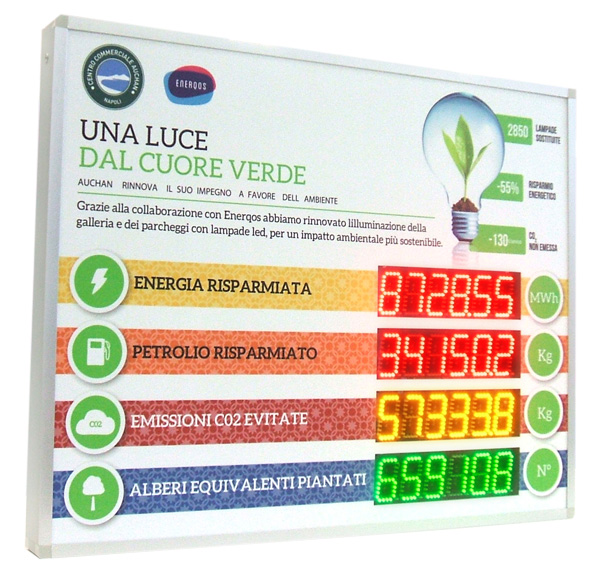 Led monitor to display electricity consuption
Bios Elettronica manufactures nine standard models (see below) to which you can add custom versions. The standard versions differ in the size, and then to the legibility distance.
The following digit heights are available:

cm 1 readable up to about 3 meters;
cm 2 readable up to about 6 meters;
cm 5,6 " " " 15 meters;
cm 10 " " " 30-40 meters;
cm 15 " " " 45-60 meters;
cm 23 " " " 69-92 meters;
cm 32 " " " 96-128 meters;
cm 47 " " " 141-188 meters;
cm 100 " " " 300-400 meters.
You can have the digits in the following colors: red (standard), green, yellow, amber and blue (optional).
The models with the character height 1 cm, 2 cm and 5.6 cm, are made with LED type "seven segments" of resin blocks: they are not too bright and easily readable from near and from any angle; This type of LED is recommended when the display is to be installed in an indoor environment not directly illuminated by sunlight. On all other models are mounted LEDs Superbright type: are easy to read even in strong direct sunlight and are therefore also suitable for outdoor installation.
All models can be supplied with the chassis arranged to be installed outdoors exposed to atmospheric agents (IP54) or with a higher degree of protection for cases in which should be installed in critical environments, for example in places where strong jets of water are used also from the bottom to the top (IP65), or in an industrial building where there are very aggressive acid vapors.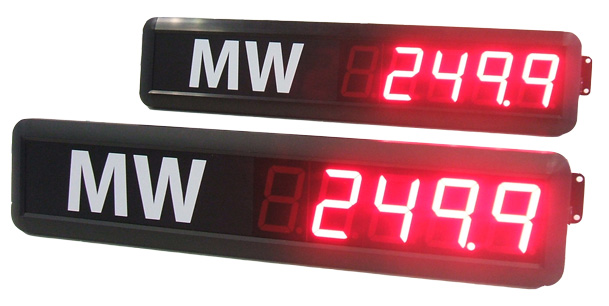 Large led display for instantaneous electricity consumption
General standard features:

interface for pulses counters (standard S0);
LED type: red superbright 1600 MCD (from digit height cm 10 on), angle of maximum efficiency 100°;
power-supply 220 V 50-60 Hz;
aluminum chassis black or silver;
front screen in polycarbonate;
operating temperature: from -10°C to + 60°C.
Options:

interface for RS485 Modbus RTU master/slave counters;
interface for Modbus Ethernet RTU Server over TCP/IP counters;
Modbus RTU master/slave protocol;
display in double-sided version (readable from both the opposite faces of the displays);
power-supply 12V, 24V, 110V;
LED ultrabright (3200, 4200 MCD and over);
chassis with protection degree IP54/IP65 or other on request.