English
Infocity has become a fundamental tool for municipalities and local authorities in general. It allows the administration to constantly and promptly inform the public on road conditions, events, news agencies, environmental issues and in particular on weather alerts.
The electronic panel, positioned at strategic points of the city, is a reference point for citizens particularly in cases where their safety is endangered, as in the case of natural disasters (examples: flooding and earthquakes). Thanks to the strong brightness that makes it readable even in daylight with direct sunlight, attracts public attention and is easily legible even at greater distances (from 4 to 200 meters depending on the models).
The programming of the messages can be done locally or from a remote office of the municipality or the Civil Protection. In the first case, by connecting the display to the same PC LAN network with Ethernet cable or Wi-Fi mode or, for distances up to 500 m, via radio modem, in the second case, remotely with a PC connected to the Internet. In the display a GPRS modem is integrated that connects to the Internet and receives the update message.
To solve specific problems we can develop custom software, for example for the management of weather alerts. In addition, to allow the user to be able to independently develop a specific software, the display protocol is provided.
Infocity keeps the message in memory even when power is turned off (for example for temporary lack of electrical current).
Along with the generic news you can also display time, date and, if required, temperature, humidity, wind speed etc.
Infocity is available in the standard colors red and yellow / amber. Upon request are also available white, green and blue.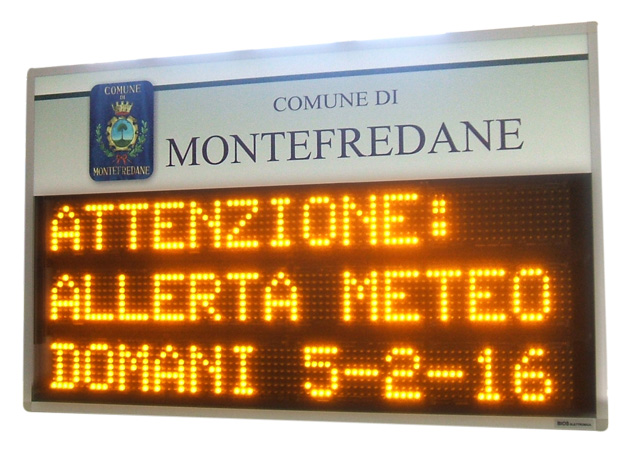 Large led display for public information
4G wireless interface
For choosing the most suitable Infocity model you should ask three main questions:
1) It must be installed in an indoor or outdoor sun light?
2) from which distance should it be readable?
3) how much information must be legible on each page displayed? So how many lines and characters per line should be composed of the display? (The standard line is 20 characters);
The Infocity displays are divided into five main types, distinguished by the height of the characters and their brightness.
The following digit heights are available:
cm 5, readable from about 15-20 meters;
cm 8, " 24-32 meters;
cm 11, " 33-44 meters;
cm 16, " 48-64 meters;
cm 20, " 60-80 meters;
On models with 5 cm character height, LEDs of type "Dot Matrix" are installed: they do not have a bright light and they are easy to read closely and from any angle; This type of LED is recommended when the display is to be installed in an indoor environment not directly illuminated by sunlight.
On all other models, LEDs Superbright 3200 MCD are mounted: they are easy to read even in strong sunlight and are therefore suitable for outdoor installation. The Infocity displays with Superbright LEDs are also recommended for the interior when they have to be readable from over 20 meters.
Infocity can be realized with a number of rows as desired (1 to 32). The standard models contain 20 characters per line but it is also possible to realize it with a different number of characters: 10, 13, 16, 20, 26, 30, 40 and 60 characters.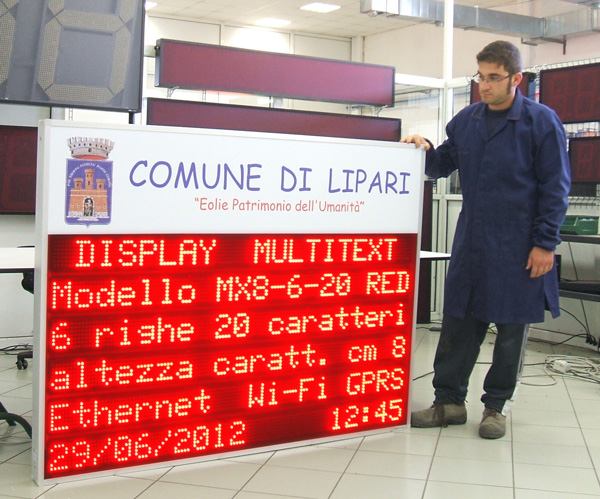 Giant led display for public news and weather alerts
GPRS wireless interface
You can request a detailed list of all the models available with features and prices by clicking on Contact on the bottom of the page.
The case-box of the Infocity displays is designed to be installed outdoors exposed to atmospheric agents (IP55), even in areas facing the sea (tropicalization treatment). It is also possible to request a higher degree of protection for cases in which the display has to be installed in a more critical environment, for example in environment where strong jets of water are also from bottom to top (IP65) or in an industrial warehouse where there are very aggressive acid vapors.
General standard features:
RS232 serial port;
LED type: red superbright 3200 millicandles;
4 character fonts;
upper and lower case;
10 effects of appearance of the pages;
possibility of insertion and variation of the effects at each cycle in an automatic mode;
visualization of time and date;
power-supply 220 V 50-60 Hz;
memory autonomy without power: 90 days.;
aluminum case-box color silver / black;
front anti-glare screen in methacrylate;
operating temperature: from -10°C to + 60°C.
On request it is also possible to have:
visualization of temperature and humidity;
Ethernet interface;
Wi-Fi interface;
modem GPRS;
power-supply 12V, 24V, 110V;
double-sided version (readable from both the opposite faces of the display).