English
CRONO-DISPLAY is dedicated to timekeeping in sports, in the council chambers and at conferences. crono-display is essential when there is a need to time a sports performance or to scan the timing of the speakers intervention in administrative councils and conferences and make a timing visible at great distance and even outdoors in direct sunlight.
Crono-Display It can be controlled manually via a control panel connected by wire and by remote control. It is also available in "SLAVE" version controlled via PC software (see below).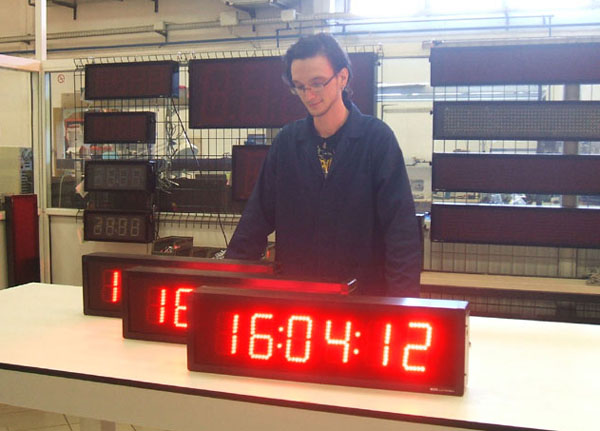 LED Stopwatch super bright for outdoor use
The following standard functions are available:

PRESET FUNCTIONS
Count settings in UP or DOWN;
Time format settings: hours, minutes, seconds, cents;
Starting time (especially useful for DOWN counting).
OPERATIVE FUNCTIONS
OPTIONS AND ADDITIONAL FEATURES
To signal the arrival of the count to zero is possible to implement an internal buzzer or a relay contact for activation of an external visual or audio signal. You can also implement customized functions (to evaluate and develop on request) as for example: stop to a programmable number; activation of an audio or visual signal to event or the achievement of a programmable value; Automatic restart at the end of counting or event, etc.
SLAVE VERSION (manageable from PC and software)
Crono-Display is also available in "SLAVE", which is controlled via PC. This version is also very useful for lap times in sports and in council chambers and conference rooms for marking times assigned to the speakers.
With this version "Crono up-down" software is provided. The Crono-Display is in this case a "passive" terminal. The software performs timing and sends the data to Crono-Display each second (every tenth of second for the version that displays cents of a second). Therefore the timing is displayed on Crono-Display only if it is connected to the PC. The connection can be via RS232 serial port (cable m 15), RS485 (cable m 400) or Ethernet (direct or through a LAN network).
MAIN SOFTWARE FUNCTIONS
setting starting time;
start timing in down;
start timing in up;
return to starting time;
to add time (useful for use in council chambers and conference).
ADDITIONAL FEATURES
Clock mode instead of timing. This feature allows you to take advantage of the display as a clock when there are no timing requirements;
Activation of a light or sound signal outside or deactivation of a microphone. To take advantage of this opportunity the Crono-Display must be ordered with relay contact output. Through this contact, you can control such as the lighting of a lamp that signals the end of time, or the speaker's microphone off. Alternatively you can opt for the activation of a buzzer (BIP) internal to the display.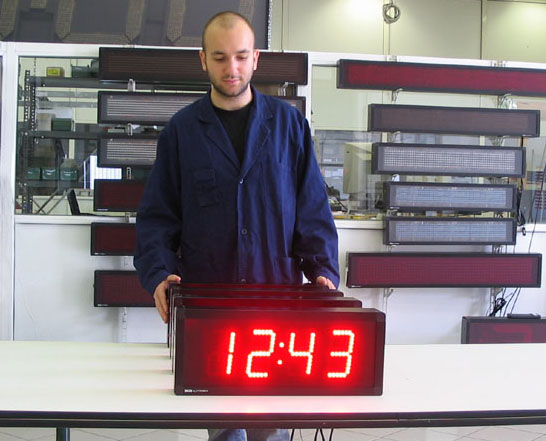 LED chromometer connectable to photocell
The software allows you to set the contact switch mode: in automatic mode (activated when the count reaches zero) or manual mode (can be activated by clicking a software button). You can also set the duration of the activation / deactivation (5 sec, 10 sec, 30 sec ... etc.). The system also comes with a serial cable of 5 m (extension available on request) to connect the clock to the PC.
INDOOR AND OUTDOOR
Crono-Display is made in "indoor" version for installations in indoor environments and "outdoor" version for installation in outdoor environments.
INDOOR VERSION
The indoor version has an IP50 rank of protection. Brightness and type of LEDs varies depending on the model: the Crono-Display CR5 (those with digits height 56 mm) are made with LED type "seven-segment" bar led on resin blocks. On all other models LEDs with 1600 MCD are mounted with maximum brightness angle of 110 degrees. Both the LED types have a suitable brightness for indoor use and are easy to read closely and from any angle.
OUTDOOR VERSION
The outdoor version is supplied with the case-box protected from the weather (IP55 option) and the LEDs superbright 3,200 MCD giving excellent daytime visibility even in direct sunlight. Models with digits height 56 mm (CR5) are available with IP55 protection, but not with superbright LEDs for daytime visibility.
HIGHER PROTECTIONS
It is possible to provide a greater rank of protection (to be assessed and quoted on request) for cases in which the display is intended for particularly harsh environments, for example in environments where there are strong jets of water (IP65), or in an industrial building where there are very aggressive acid vapors (option to be evaluated).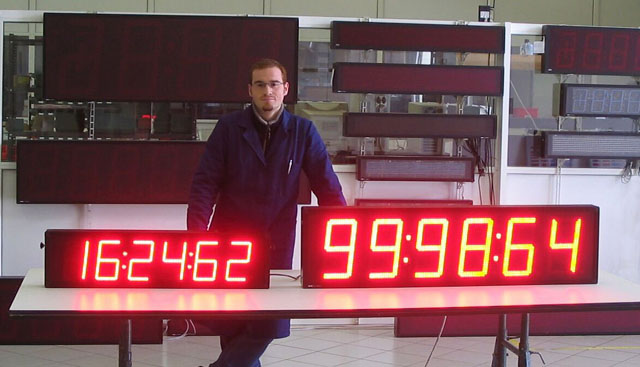 red led chromometers, digit height cm 15 and cm 23
Standard models
time format
MINUTES : SECONDS
(alternatively "seconds : cents" or "hours : minutes")

4
DIGITS

model

digit height
in cm

external measures in cm
length, height, thickness

CR5-4

5,6

25 x 11,5 x 4

CR10-4

10

47 x 19 x 8

CR15-4

15

62 x 22 x 8

CR23-4

23

85 x 32 x 8

CR32-4

32

111 x 40 x 8

CR47-4

47

159 x 55 x 8

CR100-4

100

300 x 110 x 8
time format
HOURS : MINUTES : SECONDS
(alternatively "min : sec : hund")

6
DIGITS

model

digit height in cm

external measures in cm
length, height, thickness

CR5-6

5,6

35 x 11,5 x 4

CR10-6

10

65 x 19 x 8

CR15-6

15

88 x 22 x 8

CR23-6

23

122 x 32 x 8

CR32-6

32

161 x 40 x 8

CR47-6

47

233 x 55 x 8

CR100-6

100

480 x 110 x 8
time format
HOURS : MINUTES : SECONDS : CENTS

8
DIGITS

model

digit height in cm

external measures in cm
length, height, thickness

CR5-8

5,6

44 x 11,5 x 4

CR10-8

10

83 x 19 x 8

CR15-8

15

113 x 22 x 8

CR23-8

23

159 x 32 x 8

CR32-8

32

211 x 40 x 8

CR47-8

47

307 x 55 x 8

CR100-8

100

640 x 110 x 8
POWER SUPPLY
All standard items have 220Vac 50-60 Hz power supply. On request it is possible to provide different power supply: 110Vac, 12V, 24V (AC / DC). The CR5 model have external transformer 12V / 220V but it can also be supplied with built-in transformer.
OTHER FEATURES
Case box: aluminum black electrocolour; Front screen: in methacrylate; Operating temperature: indoor version 0°/+50°C; outdoor version -10°/+55°C; To facilitate the transportation and installation, the larger models (CR100) can be supplied in modular units version.
OPTIONS
Pushbutton for remote management;
Remote control and radio receiver for wireless management;
Management via 2 dry contacts N / O;
"CRONO UP-DOWN" software for timing management via PC;
RS232 interface for management via PC;
RS485 interface for management via PC;
Ethernet interface for management via PC (plug RJ45 connector);
Output to zero (00:00), via relay contact for connection to external flashing light or acoustic signal;
Internal acoustic signal (BIP), activated at zero (00:00).