English
TimeTron series is specific for indoor environments. the elegant and ergonomic design of the various models makes them suitable for environments where the functionality has to unite with a refined and discrete aesthetics.
TimeTron displays are therefore suitable to be installed in banks, main offices, meeting rooms, hospitals, labs, call-centres, television studios, swimming pools, gyms and every indoors place where it is necessary to visualize in a clear and precise way time and date.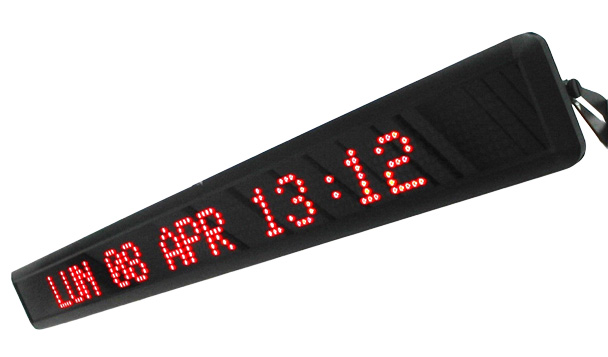 Led clock and dater synchronizable with NTP server
Some models denominated " TimeTron -Messages" have the possibility to visualize time and date and contemporarily with an informative message (steady or sliding) programmable from an infrared keyboard or a PC. With this system it is possible to attract more effectively the attention of the public on eventual important information.
The luminous part of the device is formed by a series of LED on built-in resin bricks of the typology "seven segments" or "matrix of pixels 7x5" (according to models): they have a brightness that perfectly suitable to all indoor environments and they are perfectly readable from any position. For cases in which there is a strong artificial illumination, for example in a film studio, or when they have to be readable from over 35 meters, models with Super-bright LED are available: they are also well readable when exposed to a strong direct sunlight and therefore suitable also for outdoors. See the range Time-Outdoor.
TimeTron maintains updated time and date also in absence of power supply by an internal rechargeable battery (90 days of autonomy). To allow to set the time and the date when "TimeTron" is not accessible to operate, it is supplied with a pocket radio command (range 20/30 meters) or an infrared rays remote control (range 6/10 meters); It is possible to have a version with two buttons placed on the side of the chassis or with a keyboard connected with a cable, instead of wireless system.
When it is necessary to visualize the same time on different clocks in different places but in the same building, it is possible to implement the serial port RS232/422/485 to connect the displays to a centralized system in which a master unit (another clock or a personal computer) will periodically sends time and date to the other units.
By request it is possible to implement particular functions, for example: "TimeTron" switches on a luminous sign at a scheduled time or operates every hour an alarm to scan the beginning and end of working shifts in a factory.
It is also possible to build-in a radio receiver DCF77 to receive the periodic synchronism of time and date issued by Frankfurt broadcasting which guarantees the exact time.
The Range
It's composed of various standard models: from a dimension of cm. 33 x 11 x 4,5 (base, height, thickness) up to cm. 75 x 35 x 8.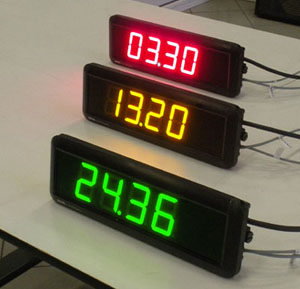 Large led clocks with time and date
Ethernet, RS485 and GPS interfaces
The following versions are available:

Single-face (for wall installation) and double-face (to install in corridors);
With red colour numbers (standard) or green (optional colour);
With four types of visualization: only with time, only date, time and date at the same time or in alternate time/date;
With four (standard), or six figures: which time/date can be visualized: with hour/minutes/seconds (23:59:59), or with day/month/year (25.12.03).
The models TimeTron/Message are also able to visualize weekdays and months in letters together with the day of the month and the time. Example: "MAR 11 FEB 23:59". They can besides alternate this information with a programmable message.
TimeTron is readable from several distances in relation to figure height. The figures are available with the following heights:
Sono disponibili con le seguenti altezze:

cm 5,6 readable as far as about 13 meters;
cm 10 " " " 30-40 meters;
cm 15 " " " 45-60 meters;
cm 23 " " " 69-92 meters;
cm 32 " " " 96-128 meters;
cm 47 " " " 141-188 meters;
cm 100 " " " 300-400 meters;
All models can be supplied with chassis planned to be installed outdoors exposed to atmospheric agents(IP55), or with greater protection for cases in which the display has to be installed in a more critical environment, for example in places where strong throws of water are used from the bottom upward (IP65) or in an industrial shed where there are very aggressive acid vapours. .
Standard general characteristics:

Power supplies 220 Vs 50-60 Hz.;
LED Typology: red super bright 800 MCD (from Cm.10 char. height) ;
Chassis: black colour aluminium;
Frontal screen: methacrylate filter;
Operating temperature: from -10c to + 60c.
Options:

Radio command and receiver for wireless set up (range 20/30 meters);
Infrared command and receiver for wireless set up (range 6/10 meters);
Serial port RS232/422/485, to receive synchronism from a master unit (com. protocol attached);
Radio receiver DCF77 to receive the periodic synchronism from Frankfurt broadcasting;
Summer-time automatic change;
Visualization of the outside temperature;
Chassis with IP 43/54/65 protection;
Automatic brightness regulator according to external light during the night;
Double face version (readable from both sides);
Power supply 12V, 24V, 110V.