English
Time-outdoor displays visualize the time, the date and the temperature. they are generally installed outside a commercial activity or on top of buildings and factories, combined with traditional signs or with billboards, with the main purpose to attract customers' attention.
They are planned to work outdoors and they are clearly readable when exposed to direct sunlight. The bright part of the device is constituted by a series of LED (Light Emission Diode) of the Super bright typology. An optional automatic brightness regulator reduces the brightness at night according to external light.
The internal CPU maintains updated time and date, also in absence of power supply by internal rechargeable battery (90 days of autonomy).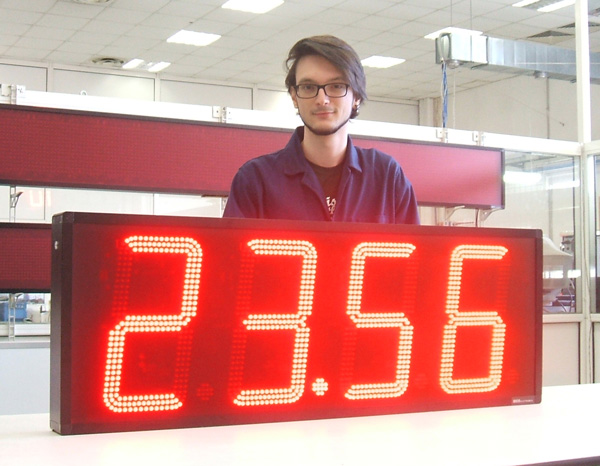 Large Led display with time, date, temperature and umidity
To allow to set the time and the date when "Time-outdoor" is not accessible to operate, it is supplied with a pocket radio command (range 20/30 meters) or an infrared rays remote control (range 6/10 meters); It is possible to have a version with two buttons placed on the side of the chassis or with a keyboard connected with a cable, instead of wireless system.
When it is necessary to visualize the same time on different clocks in different places but in the same building, it is possible to implement the serial port RS232/422/485 to connect the displays to a centralized system in which a master unit (another clock or a personal computer) will periodically sends time and date to the other units.
By request it is possible to implement particular functions, for example: "Time-outdoor" switches on a luminous sign at a scheduled time or operates every hour an alarm to scan the scheduled time for a rented tennis court, by a relè output. It is also possible to build-in a radio receiver DCF77 to receive the periodic synchronism of time and date issued by Frankfurt broadcasting which guarantees the exact time.
An external probe with a three meters cable measures the temperature. It's important that the probe is positioned in shade and away from sources of heat (it is possible to ask for a longer cable).
The Range
It is formed of 42 standard models: from a dimension of cm 47 x 19 (horizontal, vertical) up to cm 300 x 110.
RS232
RS485
Ethernet
Wi-Fi
Radiomodem
The following versions are available:
Single-face (for wall installation) and double-face (to install it like a flag).
With red colour numbers (standard) or green, yellow, amber and blue (optional colours). Red is the colour that guarantees better visibility in daytime.
With six type of visualization: only with time, only date, only temperature; alternate time/date, time/date/temperature, time/temperature.
With four digits (standard) or six digits. With six digits time/date can be visualized with hour/minutes/seconds (23:59:59) and day/month/year (25.12.03).
The displays are readable from several distances in relation to the height of the digits. The digits are available with the following heights:
cm 10 readable as far as about 30-40 meters;
cm 15 readable as far as about 45-60 m;
cm 23 readable as far as about 69-128 m;
cm 32 readable as far as about 96-128 m;
cm 47 readable as far as about 141-188 m;
cm 100 readable as far as about 300-400 m.
You can ask for the detailed list of all the available models with the characteristics and the prices selecting On-line application form .
All the models can be installed outdoors exposed to atmospheric agents (IP55). You can ask for greaterlevel of protection for cases in which the display has to be installed in a more critical environment, for example in places where strong jets of water are used from the bottom upward (IP65) or in an industrial shed where there are very aggressive acid vapours.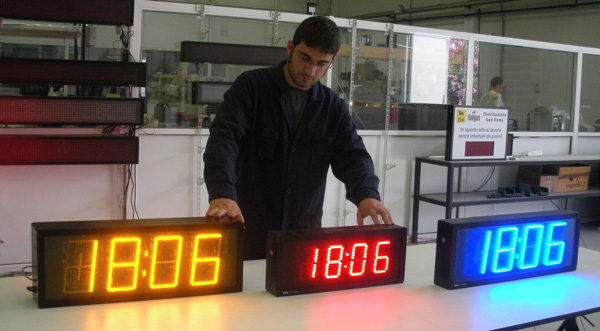 Led clock display for outdoor use
with time, date, temperature and umidity
Standard general characteristics:
LED Typology: red Super bright 800 MCD (from 15 Cm onwards);
Power supplies: 220 Vs 50-60 Hz.;
Set up through infrared remote control (range 6/10 meters);
Chassis: black colour aluminium;
Chassis protection: IP55;* Frontal screen: methacrylate filter;
Operating temperature: from -10c to + 60c.
Options:
Radio command and receiver for wireless set up (range 20/30 meters);
RS232/422/485 serial port to receive synchronism from a master unit (communication protocol attached);
Radio receiver DCF77 to receive the periodic synchronism from Frankfurt broadcasting;
LED ultra bright (1200, 2000, 2800 MCD and more);
Chassis with IP 54/65 protection;* Automatic brightness regulator to reduce the brightness during the night;
Power supply 12V, 24V, 110V.